Dr. Patrick T. Walsh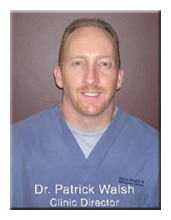 Dr. Walsh received his Bachelor of Science in Kinesiology at the University of Waterloo in 1991. From there he went to the National College of Chiropractic in Chicago, Illinois and graduated Summa Cum Laude and Salutatorian of his year.
He then returned to the K-W area and established the Walsh Health and Wellness Centre. He has been in practice for over ten years.
He started a fellowship in acupuncture in 1991. He is now licensed in Acupuncture, Active Release Technique, he became a licenced Pedorthist in 2006 to further his understanding and treatment of foot and gait disorders.
Half of the conditions he treats are non-spinal (shoulders, elbows, wrists, hips, knees and ankle) He is a member in the Ontario Chiropractic Association, Acupuncture Council of Ontario, Active Release Technique, Canadian Chiropractic Association, College of Pedorthist of Canada.
Bachelor of Science, Kinesiology University of Waterloo

Contemporary Acupuncturist McMaster University

Licenced in Graston Technique®

Active Release Techniques® Provider

Canadian Certified Pedorthist, cped (c)

Certified Bioflex Laser