Scott Gerardi RMT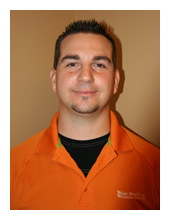 Scott is a graduate of Sir Sanford Fleming College, School of Massage Therapy.
He joined the Walsh Health and Wellness Centre In 2000. Scott's continuing education includes Pre/Post Natal massage, Manual Lymphatic Drainage, Tempero-mandibular Joint (TMJ) Dysfunction, Neuromuscular Integration and Structural Alignment and Advanced soft tissue manipulation of the cervical spine (whiplash).
Scott has worked closely with Obstetricians, Dental Surgeons, Cosmetics Surgeons, Family Doctors, Physiotherapists and Chiropractors treating such conditions, but not limited to, motor vehicle accident injuries, repetitive-strain injuries, chronic pain syndromes, sports/performance injuries.
Scott is an active member with the College of Massage Therapists of Ontario and The Ontario Massage Therapist Association.